EMES members
Nevena Radoynovska
and
Benjamin Huybrechts
warmly invite doctoral students working on social enterprise, philanthropy or a related topic to submit their application to participate in the 3rd SEPHI seminar (before 1st March 2021). "SEPHI is a great opportunity to present your work in a small and constructive setting, and to receive relevant feedback", they explain. Nevena and Benjamin have been involved in EMES doctoral events such as the PhD summer schools for over a decade. The seminar will take place on 6-7 May 2021, either virtually or in person (at HEC Liège), depending on the situation next Spring.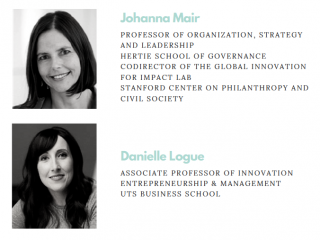 The seminar is integrated within a range of dynamics on social entrepreneurship and philanthropy including international research networks in these domains such as EMES (social enterprise/entrepreneurship) and ERNOP (philanthropy). This year two distinguished guests who have published a lot on social entrepreneurship and social innovation will be participating in the seminar: Johanna Mair (Stanford and Hertie)

and Danielle Logue (UTS Business School).
Application process
All doctoral students in social and management sciences interested in the theme are welcome. A previous class related to social entrepreneurship or philanthropy is useful but not compulsory. Each doctoral student will have the opportunity to present a research project or a paper and receive feedback from other participants and guest speakers. For doctoral students interested in validating ECTS credits for the seminar, it is possible to receive a course certificate issued by HEC Liège, Liège University, provided that the course evaluation is positive. Students who wish to receive the ECTS validation should mention it when applying for the seminar. They will then receive more information regarding the final evaluation, consisting of the submission of a full paper and the presentation of their research project. Interested candidates should send a sample research paper or a 2-page outline of their research in attachment to an email motivating their participation. The application should be sent by 1st March 2021 to
Shoaib Ul-Haq
. Organizers will accept as many applications as possible, up to 20 participants.
You can download the Call for Applications
here
.